SMS

Text Controller
Control your Industrial/Commercial, Agricultural, Plant & Equipment and Domestic appliances all from your mobile phone: at home, at work, wherever you are.
EZY SWITCH is a simple switch control design that connects to electrical devices. If your appliance or equipment can be switched on or off, you can control it remotely from your mobile phone with EZY SWITCH!
Simple installation and control via text message
The EZY SWITCH employs the SMS network and comes with easy programming steps. Simple text messaging instructions are used for operation, such as "turn on heat pump"
Save on monthly monitor fees by receiving your own monitor notifications via text to your mobile.
Avoid waiting hours for your hot water to heat up when you arrive. With EZY SWITCH you can plan your trip easily by remotely turning on your heating and hot water, welcoming you to a warm home when you arrive.
Not sure if the water pump has come on? Save yourself the travel time and monitor farm machinery and milk sheds remotely, whether you are on or away from the farm.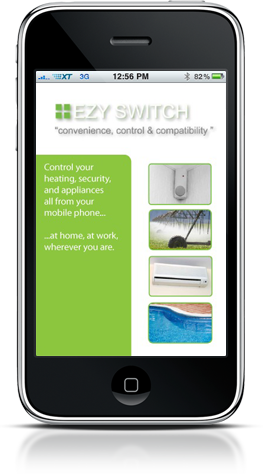 Remotely power on/off air-conditioning, heat pumps, central ducted systems, and ventilation systems.
Remotely power on/off hot water cylinders, swimming/spa pool pumps, open gates and sprinkler control.
Control and monitor specified security systems, security light sensors, smoke alarms, security gates, and other wired peripherals.
Remotely control milk sheds, water pumps, monitor fuel, water or sewage tanks, generators, irrigation equipment and asset monitoring position and location.
Receive critical alerts and notification from monitored equipment. Remotely operate lighting and other commercial peripherals.
Monitor shore power disconnect, Bilge pumps, break ins, GPS location, Control Fridge, Battery Charge, Alarm Siren
2G, 3G & 4G

options available
EZY SWITCH uses a globally compliant cellular module. Engineered and manufactured in New Zealand, proudly distributed across NEW ZEALAND and AUSTRALIA.